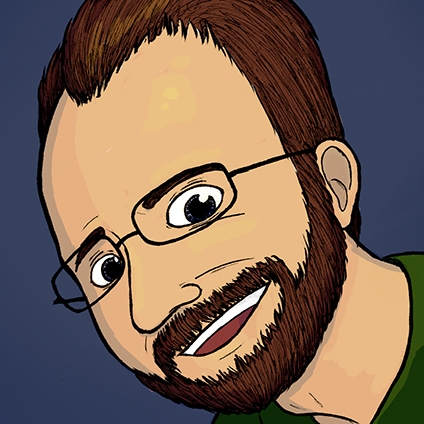 I still remember drawing at a desk in my first grade classroom.  At the tip of my pencil was a fearsome dragon locked in combat with a medieval knight. It was the first drawing I truly felt proud of.  In that moment I knew that I wanted to tell stories as an artist. That feeling spurred me on over my young life as I pursued my passion, eventually double majoring in Illustration and Animation at CSU Fullerton. It was a period of great personal growth, and I found that the more I learned about visual storytelling, from painting and storybooks to comics and animation, the more fascinated with it I became. Once college was behind me, I was more motivated than ever to find my own path in the art world. Now I happily remain busy with personal projects, freelancing, and taking up any opportunities I can find.
Most people know me for my art, but it's my other interests that help to fuel my passion so well. I draw inspiration from everywhere and it keeps me going. From animation to video games, sci-fi to fantasy, science and nature, space and the ocean, travel and culture, emotion and life. I'm fascinated with these things and they inspire me every day. All of my interests and experiences continue to feed back into my art, building upon my creative vision.
I love to do what I do and I want to connect with my viewers through sharing my ideas. My head is brimming with so many stories just waiting to be told in my own unique way. I'm passionate about telling stories through dramatic and compelling imagery. More often than not I find myself saying more with pictures than with words. I love creating a sense of movement, even in still images. Using flowing, curving lines, sweeping through one scene to the next. Contrasting solid darks with flowing pastels, simplicity with detail. This is how I connect with my audience and this is how I want to connect with you. That connection is truly the purpose of my art, and the way I have chosen to leave my mark on the world.